Join Us at the National Fiesta Challenge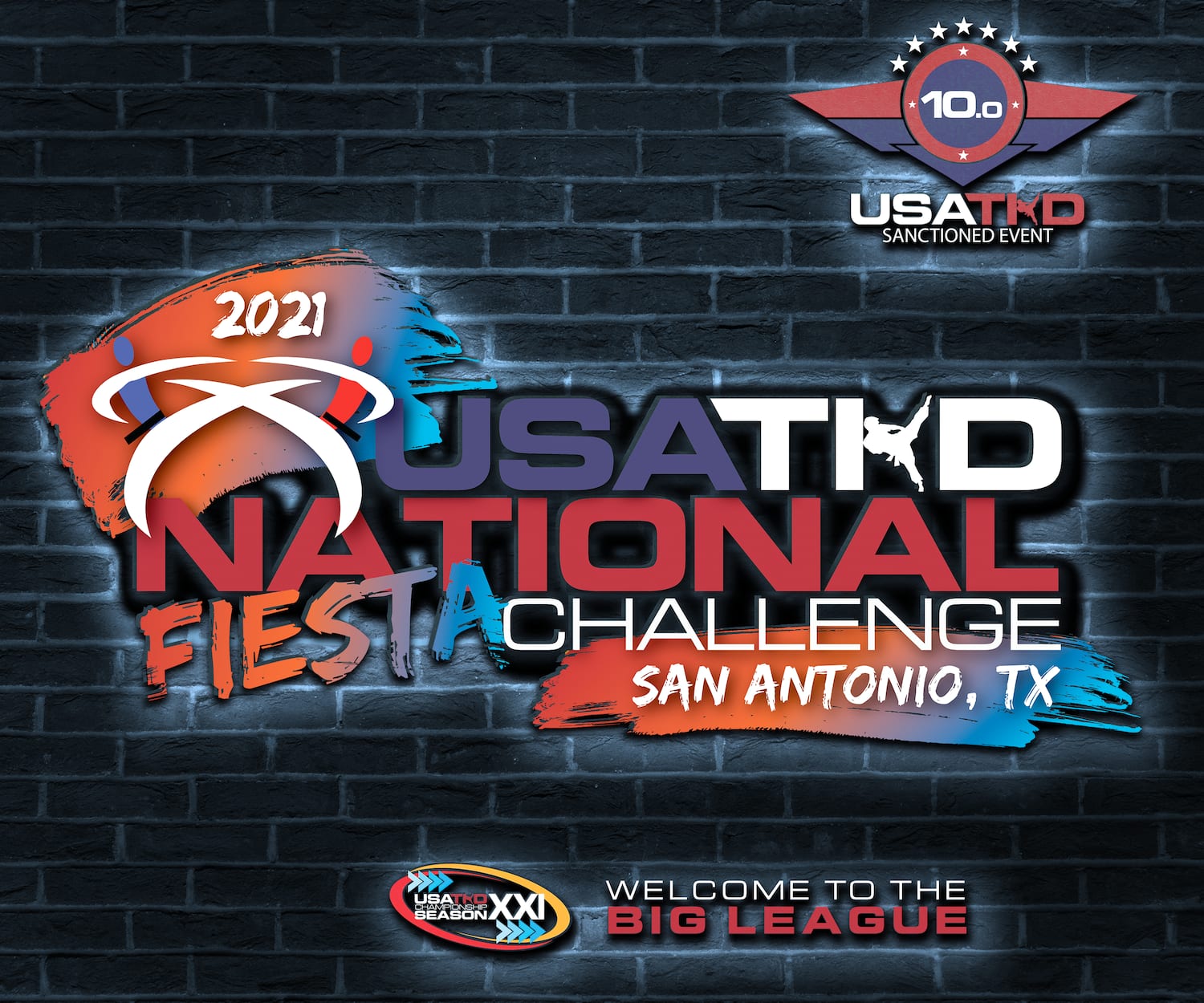 (July 1, 2021) - USATKD is heading back on the road in early August, and bringing the highest quality U.S. National Taekwondo Championships ever to San Antonio, Texas in the stunning Alamodome. Thousands of athletes from around the country fought hard to qualify for Nationals, and will fight it out for two amazing prizes - huge ranking points in this 16.0 rated tournament, and the chance to claim a Major Tournament win on the National Team Pathway for Cadet Worlds, Junior Worlds, Senior Worlds AND Poomsae Worlds - taking a major step closer to their Team USA dream and representing the U.S. on the world stage.
We know though that some athletes couldn't or didn't attend the Grand Prix Series for various reasons - perhaps Covid was still a concern and they didn't feel comfortable traveling or being among large crowds. We also know that there are many athletes who are at a different stage of their development, and didn't feel totally comfortable going head to head with the best in the country yet - particularly as everyone can see the standard of competition is going through the roof in the United States right now…
So what about those people? Are they just out of luck? No! USATKD is thrilled to announce the National Fiesta Challenge, being held in conjunction with the U.S. National Taekwondo Championships at the Alamodome in San Antonio, Texas. The Challenge is 10.0 rated, so another huge Ranking Point opportunity AND the gold medalist in each division will earn an invitation to compete in the prestigious U.S. Grand Prix Final later in the year!
Taking it's name inspiration from the world famous Fiesta event in San Antonio, now EVERYONE can get the full Nationals experience - compete in an amazing venue and take part in a competition run just like a World Taekwondo event, earn ranking points and get the chance to go to the show later in the year at the U.S. Grand Prix, all while having a safe place to play, whatever level of development you are at in your TKD career.
And finally, the Challenge is an officially sanctioned Team USA Talent ID event - with the winners joining their own Regional Academy, and stand out performers being scouted by Academy coaches for future financial and athletic support.
At the Grand Prix Series we saw athletes, coaches, and families reunite with friends and loved ones after a year of no competition. USATKD saw Sparring and Poomsae athletes compete back in the ring and we were inspired by their passion all through the Grand Prix. The National Fiesta Challenge provides those athletes, coaches and families the opportunity to have the same experience those at the Grand Prix had. The opportunity to reunite with their Taekwondo community, showcase their skills, get their name on the Tusah National Rankings, qualify for the U.S. Grand Prix Final AND be talent ID'd as a potential future superstar.
The U.S. National Taekwondo Championships was already set to be a great one at the Alamodome, and with the additional of the brand new National Fiesta Challenge for emerging athletes taking it up another level, USA Taekwondo couldn't be more excited for what's to come and for the future of the sport in the Unites States. Remember, official USATKD events are the ONLY place to earn U.S. National Ranking Points, so don't miss your chance to climb the ladder!
Registration is open NOW through Sport:80 (Click Here to Register), and you can book your hotel stays HERE.
To view the Schedule Click Here.
#USATKD #WelcomeToTheBigLeague #Protecttheathletes
---------------
National Fiesta Challenge Benefits
- 10.0 Ranked Event
- Gold Medalists in all sparring and poomsae divisions earn an invitation to the Grand Prix Final
- Gold Medalists in all sparring and poomsae divisions will become Regional Academy Members
- Official Team USA Talent ID event - show us what you've got and it could change your life!
- Vital tournament experience for ALL athletes - a chance for coaches to maximize their experience by bringing athletes of all levels, safely
- A chance to meet up with old friends and have fun again!