Florida Joins CUTA and USATKD for Project 2028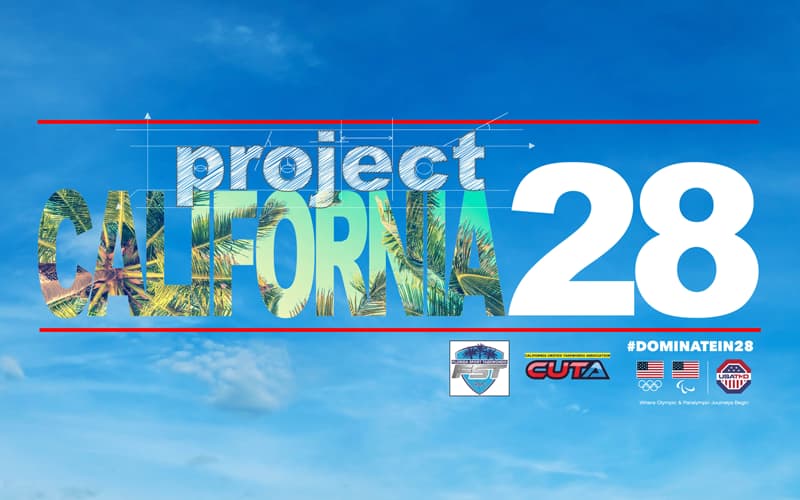 (Colorado Springs, CO – Apr 15, 2022): USATKD is delighted to announce that Florida Sport Taekwondo has joined forces with the Governing Body and CUTA in a commitment to work together toward success for U.S. Taekwondo Athletes at the LA Olympic Games in 2028.
Project 28 is a collaborative effort between the most influential stakeholders in taekwondo who are committing to work together for the safety and success of U.S. athletes, and is building to be the biggest grassroots initiative in U.S. taekwondo history, with the biggest and best organizations in the country unifying with a singular intent – to dominate in 28!
Mark Antonucci, Chairman and CEO of FST was quoted saying "We feel privileged and enthusiastic to be partnered with USATKD and to support USATKD's LA2028 Initiative. We believe that USATKD's CEO Steve McNally's idealism to partner with the State organizations and other key grassroots stakeholders to grow and advance the Sport of Taekwondo's athlete development program shows a great deal of foresight and integrity for the Sport of Taekwondo."
USATKD CEO Steve McNally said: "We couldn't be happier to see Florida join us in this nationwide push – we're building an army to blow away any obstacles in our path, and it's really impressive to see the enthusiasm and world class intent out there in the community to put the sport's struggles firmly in the past. The more we work together the faster we'll move forward, and confidence is growing that LA, and the run up to it, could really be a breakthrough moment for our sport. With the partnerships that are building it's truly exciting to think where we can all take this sport – together – over the coming months and years."
Mr. Antonucci further stated: "We are looking forward to supporting USATKD and commit to working together to successfully advance the Sport of Taekwondo as well as bringing a higher quality competition and more International Events to the U.S."
FST's Head Coach Dennis White also commented on the recently executed MOU between USATKD and FST saying: "We are looking forward to this partnership created between USATKD and FST which will allow greater training opportunities for our Floridian athletes and especially our Florida State Competition Team to train with the National Academy Athletes and the National Team Coaches at the National Center of Excellence. This collaboration has been created with trust and integrity to bring a greater opportunity for experience and improvement to our Floridian Athletes with the focus on USATKD's LA2028 initiative. This initiative will allow FST and all the other State Partners to find and develop the new and upcoming athletes through our grassroots development programs."
McNally continued: "Just as we did with CUTA, USATKD has committed to FST as our State Association in Florida through 2028, giving them the opportunity to plan their events with a confidence never before possible. We'll be looking to work with them to bring world class international events to the state, along with providing as much assistance as we can to hold more and even better domestic events in Florida to serve our athletes. Exciting times."
In the weeks to come we'll be announcing more organizations pledging their efforts to the cause, and the involved organizations will develop a detailed and ambitious plan for the next six years. The first planning meeting is set to happen at the U.S. National Taekwondo Championships in Salt Lake City. There will be opportunities for other State Associations to become involved before then, and we welcome approaches from organizations outside the USATKD family to be a part of what will be the most momentous event in taekwondo in United States history – the LA Olympic Games, the first opportunity ever for U.S. taekwondo athletes to compete in a home Olympics.
If you would like to be involved please reach out to either Steve McNally (smcnally@usatkd.org) or Yong Choi (y.choi@catkd.org) for more information.