Team USA First in Standings After Day 1 at World Poomsae Championships
Goyang City, Korea (Apr 21, 2022) Team USA earned one gold and one silver medal to lead all countries after the first day of competition. A delay-filled start meant that only 2 of the 7 divisions were finished with the final rounds of competition postponed until the morning of the next day.
Leading the way was Barbara Brand, who earned a GOLD medal in Under 65 Female Individual Poomsae. Brand repeated her world champion title from the 2020 Online World Poomsae Championships where she also won a gold medal in the same division. Said Brand, "More than anything, I'm grateful for this gold medal win. I appreciate the tremendous support from USATKD, our national poomsae coaching staff headed up by Dan Chuang, all of my wonderful, enthusiastic teammates, everyone at Sacramento Taekwondo Club, and, of course, my family. I will keep their kindness and generosity forever in my heart."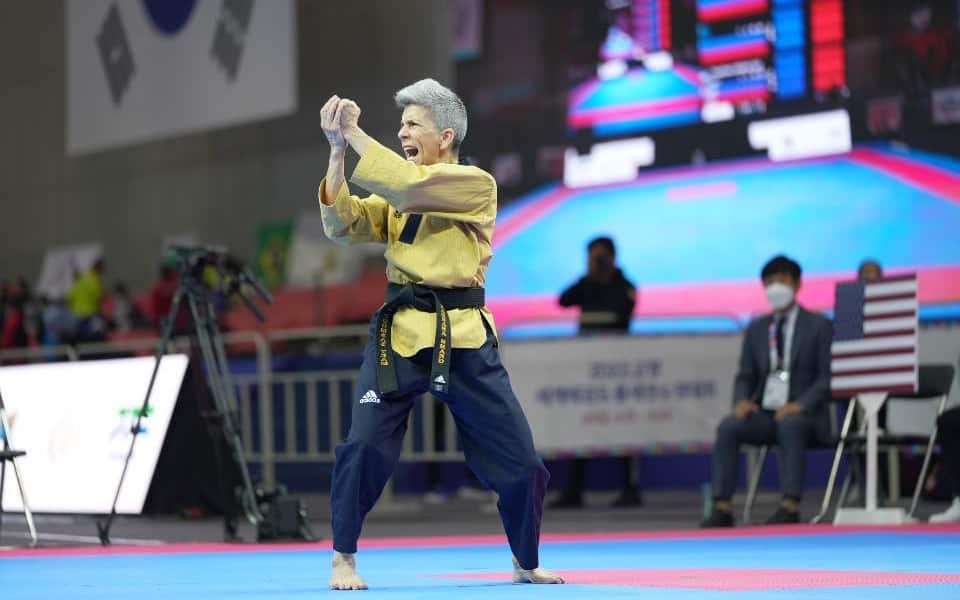 Also earning a podium berth was Jessica Ayres, Carissa Fu and Miyako Yerick, who earned a SILVER medal in the Over 30 Female Team Division. Said Fu, "There are really a lot of emotions right now. To be able to stand here with Miyako, who I competed with at our first World Poomsae Championships in 2013, together with Jessica forming this partnership to earn this silver medal, I'm very proud of everything we have done to bring us here today."
Head of Team Ron Southwick commented, "What a great start to the World Poomsae Championships for Team USA. Coming off a four year hiatus, due to the pandemic, it was exciting to see athletes from around the world compete in person once again. Although we were behind schedule and several divisions' finals were postponed until day 2, I could not be more proud to start these games with two strong performances from our talented and experienced athletes to earn the two medals today. Going into day 2 these wins will put the wind at our backs as we sail ahead. Great work from our US Poomsae Team."
All USA athletes in the other 5 divisions contested that day, including Cadet Pair (Julia Cho and Preston Park), Junior Pair (Naomi Oh and Shawn Seo), Junior Female Team (Lana Moraleda, Victoria Hsu and Yuri Paige Kim), Under 30 Male Team (Daniel Lee, David Lee and William Shin) and Over 17 Freestyle Mixed Team (Michael Chiu, Sharlene Duong, Piper Kindle, Julian Matthew Gamez, Jacob Gonzaga & Stephanie May Fausto) reached the finals and are in medal contention. These divisions will be completed on the morning of Day 2 competition on April 22.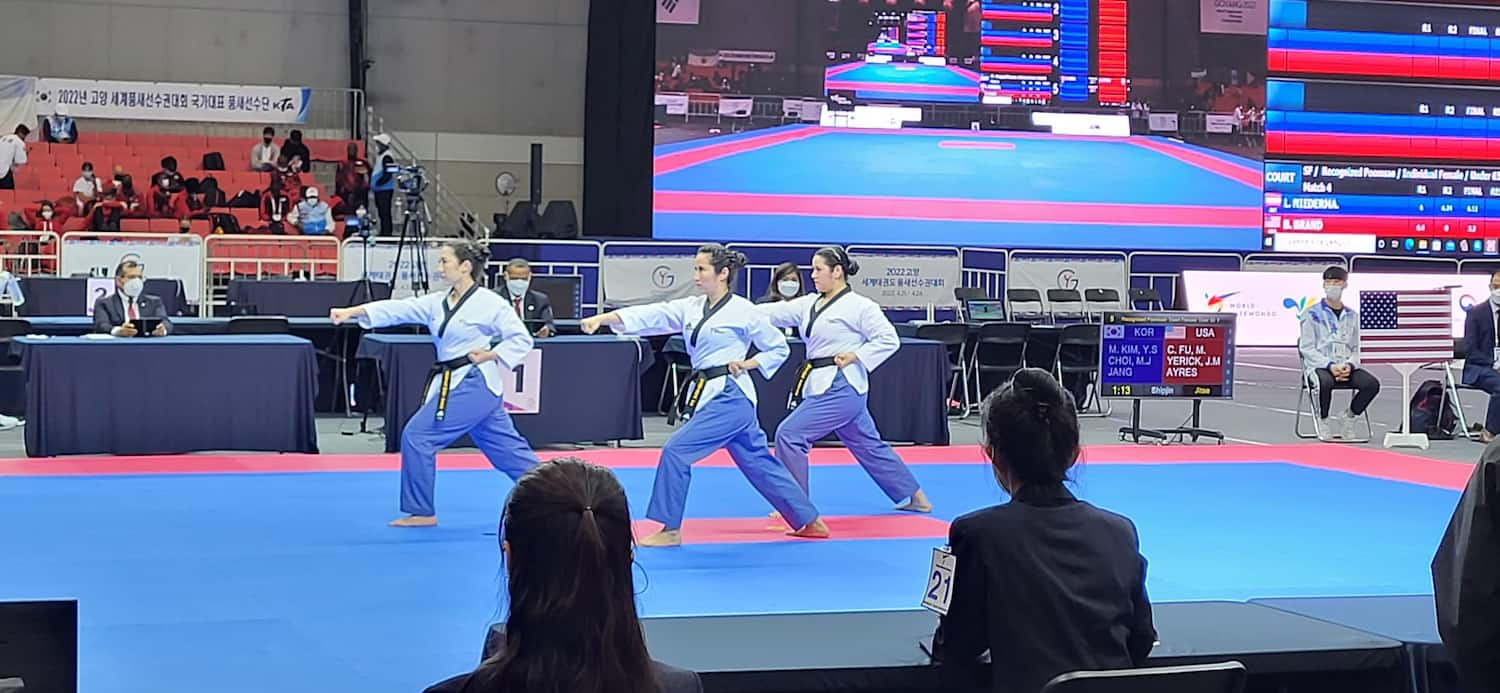 Also competing as scheduled tomorrow will be Female Cadet Individual athletes Juliana Candelaria and Mikayla Xiong (wild card from the 2020 Online World Poomsae Championship), Female Junior Individual Naomi Oh, Male Under 30 Individual Ryan Real, Female Under 40 Individual Carissa Fu, Female Under 50 Individual Kathy Do, Male Over 65 Individual Chi Duong, Male Junior Team , Sunghyun Eric Gun, Bomin Kim and Gavin Zhao, Female Under 30 Team Yewon Jeong, Kaitlyn Reclusado, and Samantha Valdez, Male Over 30 Team Kwangjin Ha, Jin Hyuk Kim and Minki Seong, Mixed Under 17 Pair Allison Deguzman and Dylan Kim, and Female Over 17 Freestyle Individual Adalis "AJ" Munoz.
Catch the action live tomorrow at the World Taekwondo Poomsae Championships'
Streaming links
!