USA Ties Record Medal Count With One Day to Go at World Poomsae Championships
Goyang City, Korea (Apr 23, 2022) Day Three saw Team USA contest ten very competitive divisions and the team earned one gold, two silver and four bronze medals on this day at the World Poomsae Championships. These results bring the total medal count for Team USA to an impressive 20 total medals (3 Gold, 7 Silver, 10 Bronze) after three days, tying USA's record count for medals at a World Championships (20 in 2014) with 7 divisions remaining to be contested on Day Four of competition.
Said USA Taekwondo Poomsae Head Coach Dan Chuang, "The past three days have shown that Team USA has become a force to contend with. It is gratifying to see first-time team members setting records, and also experienced members delivering huge results and keeping our supportive and positive team culture alive. The staff, parents and coaches have been working hard to execute this event for Team USA, and we are looking forward to closing out the event with strength and conviction tomorrow!"
The Female Cadet Female Team of Calista DeGuzman, Juliana Candelaria, and Yuna Peyton Kim earned an historic GOLD medal, the first for Team USA in that division. Said Candelaria on behalf of her team, "Dreaming big is useless unless you wake up and work hard for it .... thank you to the whole team ... Coach Giduk Gun, Coach Sangjae Lee, Ms. Gina Hwang, Coach Dan Chuang and all of the coaches for supporting us throughout our journey."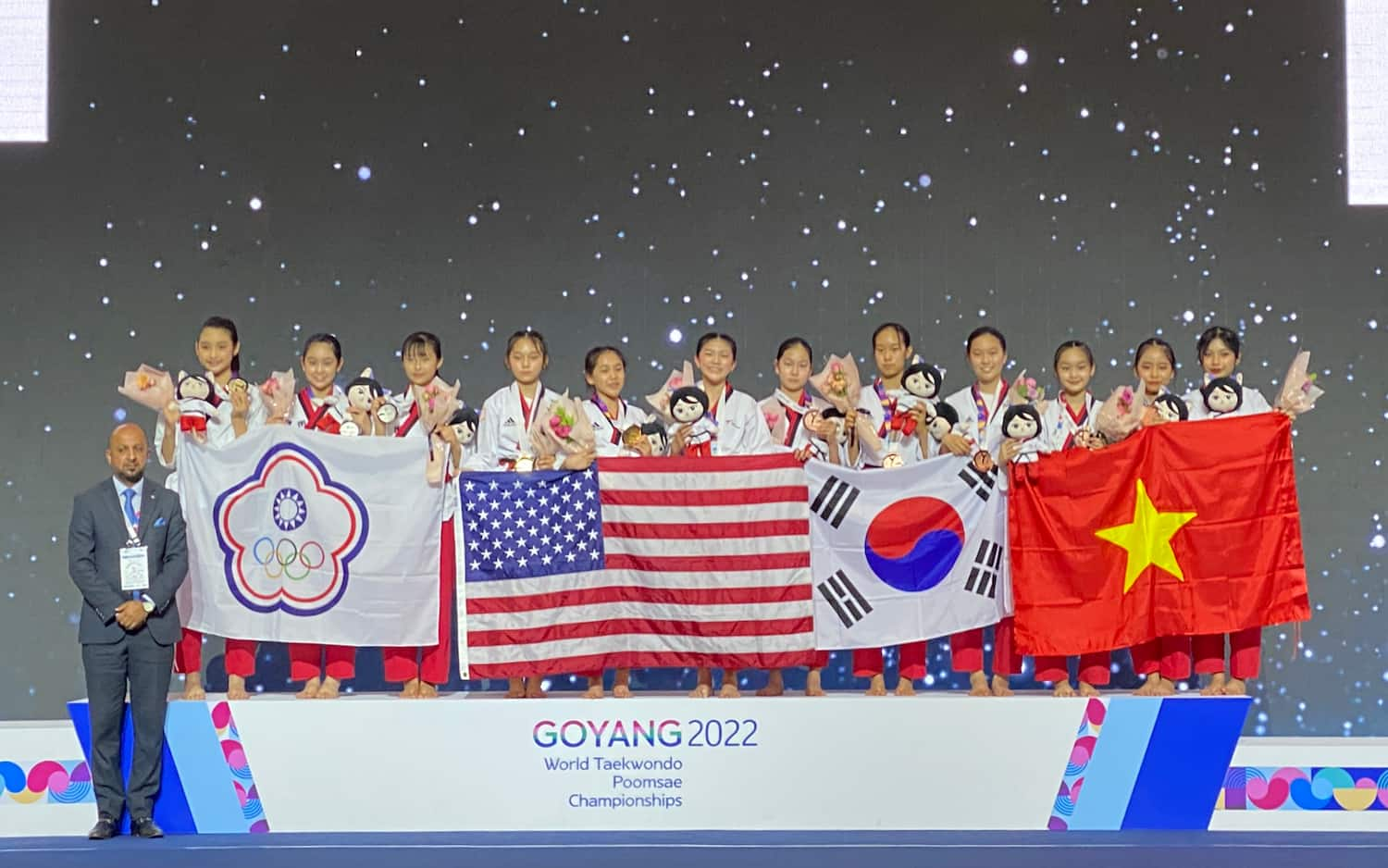 Junior Male Sunghyun Eric Gun earned an historic SILVER medal, also the first of its kind in that division. It was his second medal of the tournament and featured a dramatic face-off against Korea in a hard-fought battle.
Under 17 Male Freestyle Individual Anthony Do earned a SILVER medal at his inaugural World Poomsae Championships. Said Do, "I gave everything I had and stayed as focused as I could in the performance."
Cadet Male Kobe Fung earned a BRONZE medal in his first time competing at a World Poomsae Championship. Said Fung, "It is an honor to represent team USA for this world Taekwondo event. I truly enjoyed my time on the mats. Thank you to my coaches ... Sang Jae Lee and Rosalynn Le."
Under 40 Male Minki Seong earned a BRONZE medal at his first world poomsae championships, going out to the gold medalist from Korea in a close contest in the semifinal match.
Over 30 Pair Sung Jin Lee and Pok Sun Yang earned a BRONZE medal. It was Lee's first time attending the World Poomsae Championships and her first medal, while it was Yang's 3rd world medal and his second in Mixed Pair. Yang will compete again tomorrow in Male Under 50 Individual.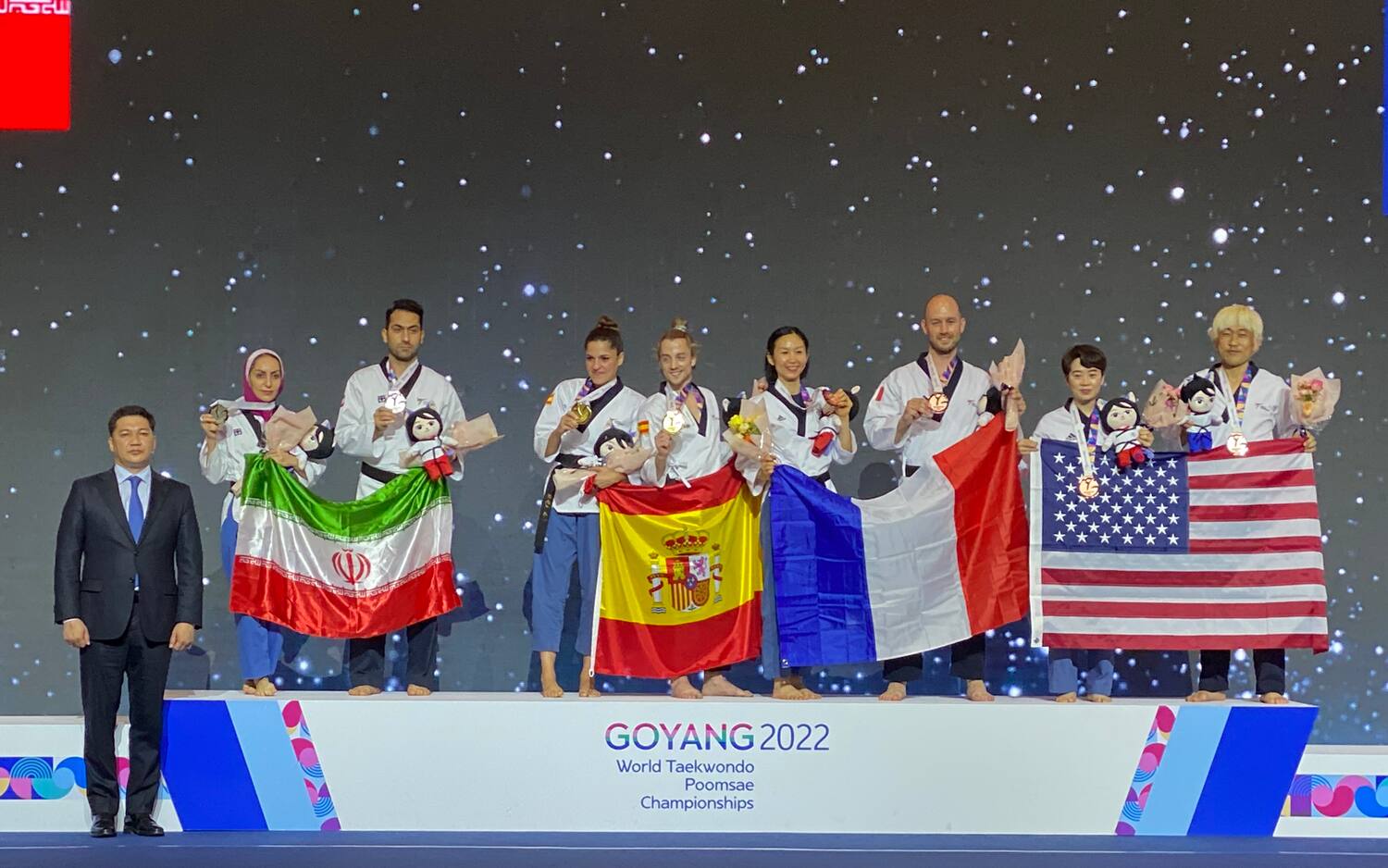 Freestyle Under 17 Individual Gian Legaspi, earned a BRONZE medal at her first World Poomsae Championships. Said Legaspi, "After my semifinals run, I got more comfortable performing at a world stage, so for my finals run, I stayed calm and made sure I performed my best." Legaspi will compete again tomorrow in Under 17 Freestyle Team.
Under 30 Pair
Ryan Real
and
Karyn Real
,
Freestyle Over 17 Pair
Adalis "AJ" Munoz
and
Michael Pascua,
and
Female Over 65 Individual Tweedy Nguyen all advanced to the final round of 8 competitors but did not advance to the medal rounds. Karyn Real competes again tomorrow in Female Under 30 Individual.
Closing out the tournament on Day 4 of competition tomorrow will be Female Under 30 Individual Athletes Karyn Real and Kaitlyn Reclusado (wild card from Online Poomsae Championships), Male Under 50 Individual Pok Sun Yang, Female Under 60 Individual Cindy Um, Male Under 60 Individual Tiger Jung, Male Under 65 Individual James Park, Male Over 17 Freestyle Individual Athlete Michael Chiu, Under 17 Freestyle Team Allison Deguzman, Dylan Kim, Gian Legaspi, Hannah Noble, Andrew Lee and Ethan Kim.
Catch the action live tomorrow at the World Taekwondo Poomsae Championships' Streaming links!