BIg medal haul for Team USA on Day 2 of World Poomsae Championships
Goyang City, Korea (Apr 22, 2022) In an action packed Day Two of competition at the World Poomsae Championships, Team USA contested 15 divisions, including five divisions that were the conclusion of Day 1 competition. The team earned one gold, four silver and six bronze, to bring the total medal count to 13 total medals after two days.
The Junior Male Team of Sunghyun Eric Gun, Bomin Kim and Gavin Zhao earned a GOLD medal in a tense final against host country Korea. Said Gun, "It felt surreal and amazing. We trained so hard and went to every tournament possible to prepare and went undefeated all year as a team. I'd like to thank my coach and dad Giduk Gun, Master Sungjin Kim for his guidance, and my mom, Gina Hwang for all her hard work for the whole team."
In the Cadet Pair division, Julia Cho and Preston Park earned a SILVER medal. Said Park, "Thank you to everyone on my taekwondo journey." Added Cho, "This is a great start to a long journey for me." It was the first silver medal for Team USA in this division.
Female Under 50 Individual Kathy Do also earned a SILVER medal in her first time in the individual division at the World Poomsae Division after medaling 3 times in team divisions at previous championships.
Mixed Under 17 Pair Allison Deguzman and Dylan Kim earned as SILVER medal. It was also the first silver medal for Team USA in this division. Said Deguzman and Kim, "Finding out that we were guaranteed [a spot] in the top four was such a joyous moment for both of us, as it was what we both hoped to achieve … this occasion is definitely something for us as a pair to greatly appreciate."
Female Over 17 Freestyle Individual Adalis "AJ" Munoz earned a SILVER medal, her fourth consecutive World Poomsae Championships medal in this division. She said, "It's always an honor to represent the USA, and to do it in Taekwondo's birthplace is no exception. Thank you to everyone who supported me to stay in the game these past eight years."
Male Over 30 Team Kwangjin Ha, Jin Hyuk Kim and Minki Seong finished with a BRONZE medal. Said Ha, "It is a huge honor and a once in a lifetime opportunity for me to represent Team USA in my home country of Korea … with my two teammates Minki Seong and Jin Kim. I could do my best because we have an amazing staff and coaches … to support and take care of everything! Half of my medal belongs to them and the other half goes to my family and students in the USA and Korea."
Female Cadet Individual Mikayla Xiong earned a BRONZE medal. She said, "Thank you truly to everyone for all your support and love! It is truly an honor to be a part of World Taekwondo Goyang 2022!"
Male Under 30 Individual athlete Ryan Real earned a BRONZE medal. It was the first medal in this division for Team USA at an in-person World Poomsae Championships. Said Real, "It was a successful day. Not because I 'made history,' but because I put everything I had out there on the mats and enjoyed doing it."
Female Under 40 Individual athlete Carissa Fu earned a BRONZE medal at her fourth World Poomsae Championships. It was her second world bronze after earning bronze in Under 30 in 2014, making her the first USA female to medal in both divisions. Said Fu, "Returning to the World Championships to represent my country and earn a bronze medal in this division is a testament to the unwavering love, support, and belief of my entire community who've been there with me. This hard-earned medal goes to all of them."
Junior Female Team Lana Moraleda, Victoria Hsu and Yuri Paige Kim earned a BRONZE medal. Said Moraleda, "Competing at Worlds Poomsae Championships is unlike any other event I have been in. Being in Korea where Taekwondo first started has made it even more special. Team USA has been very supportive, and … we put in a lot of training to prepare for this moment and we are proud to be coming home with a medal from Worlds."
Over 17 Freestyle Mixed Team Michael Chiu, Sharlene Duong, Piper Kindle, Julian Matthew Gamez, Jacob Gonzaga and Stephanie May Fausto earned a BRONZE medal. Team member Fausto said, "After the postponement of the 2020 World Poomsae Championships … our [team] was anxious to get back on the mat and showcase our talents. We overcame … hardships throughout the pandemic by maintaining our simple credo "One Team, One Dream", and never forgetting that … we are one family."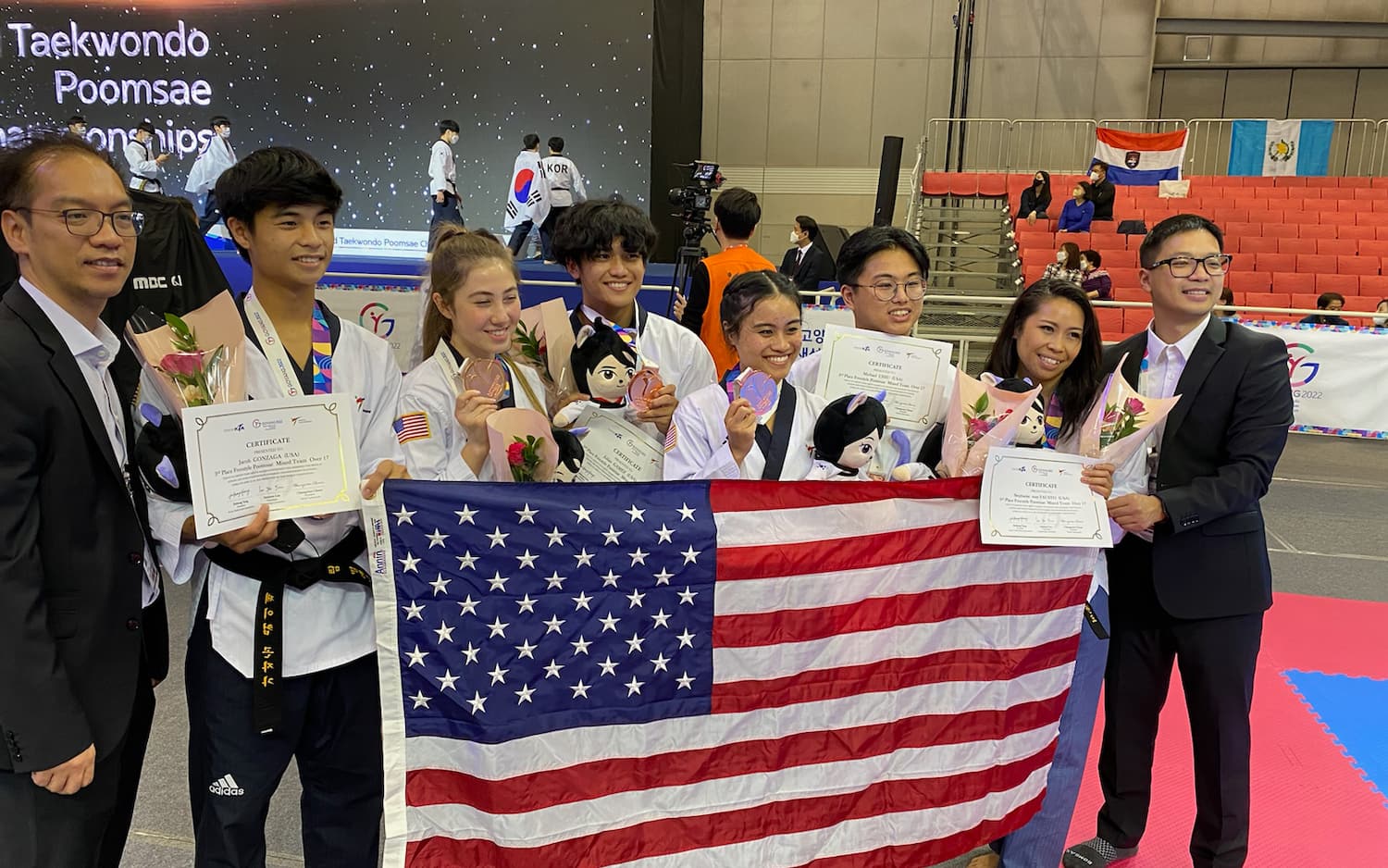 Male Over 65 Individual Chi Duong earned a BRONZE medal, an impressive fifth consecutive medal at an in-person World Poomsae Championships. "I feel alive to be on the mats with the team again," said C. Duong of his first in-person World Poomsae Championships in 4 years.
Also competing were Mixed Junior Pair Naomi Oh and Shawn Seo, Male Under 30 Team Daniel Lee, David Lee and William Shin, Female Cadet Individual Juliana Candelaria, Female Under 30 Team Yewon Jeong, Kaitlyn Reclusado, and Samantha Valdez who all reached the quarterfinals of the Final Round of the top 8 entrants. Junior Individual Naomi Oh reached the Semifinal Round, missing the Final Round on a close tiebreak for 8th place.
Seeing action tomorrow on Day 3 of competition will be Cadet Male Kobe Fung, Junior Male Eric Sunghyun Gun, Under 40 Male Minki Seong, Under 30 Pair Ryan Real and Karyn Real, Over 30 Pair Sung Jin Lee and Pok Sun Yang, Cadet Female Team Calista DeGuzman, Juliana Candelaria, and Yuna Peyton Kim, Freestyle Under 17 Individual Gian Legaspi, Under 17 Male Freestyle Individual Anthony Do, Freestyle Over 17 Pair Adalis "AJ" Munoz and Michael Pascua.
Catch the action live tomorrow at the World Taekwondo Poomsae Championships' Streaming links!