Team USA Concludes World Poomsae Championships With Record 26 Medals
Goyang City, Korea (Apr 23, 2022) Team USA continued its record-setting pace on the fourth and final day of competition at the World Poomsae Championships with one silver and five bronze medals, bringing the total medal count to a record-setting 26! This count blew past the team's previous count of 21 from 2014. The team finished with an impressive three gold, eight silver, and 15 bronze medals to finish with the second highest medal count among all countries for the event, and a close third place in the official gold medal standings.
Said Head of Team Ron Southwick, "For the last week I have had the best seat in the house here at the 2022 World Taekwondo Poomsae Championships, in Goyang Korea. Aside from witnessing the phenomenal performances of our US National Poomsae Team, I watched the talented coaches, manager and liaisons, medical staff, and parents help create an environment of success for this wonderful team. From our humble beginnings in this sport, the United States has become a force to reckoned with and has its sights set on becoming the number one team in the world. I think it is important to recognize all the previous members of this team who help build the foundation that we stand on today. I would also like to thank the CEO and staff of USATKD and our new national sponsor, Adidas. Go Team USA!"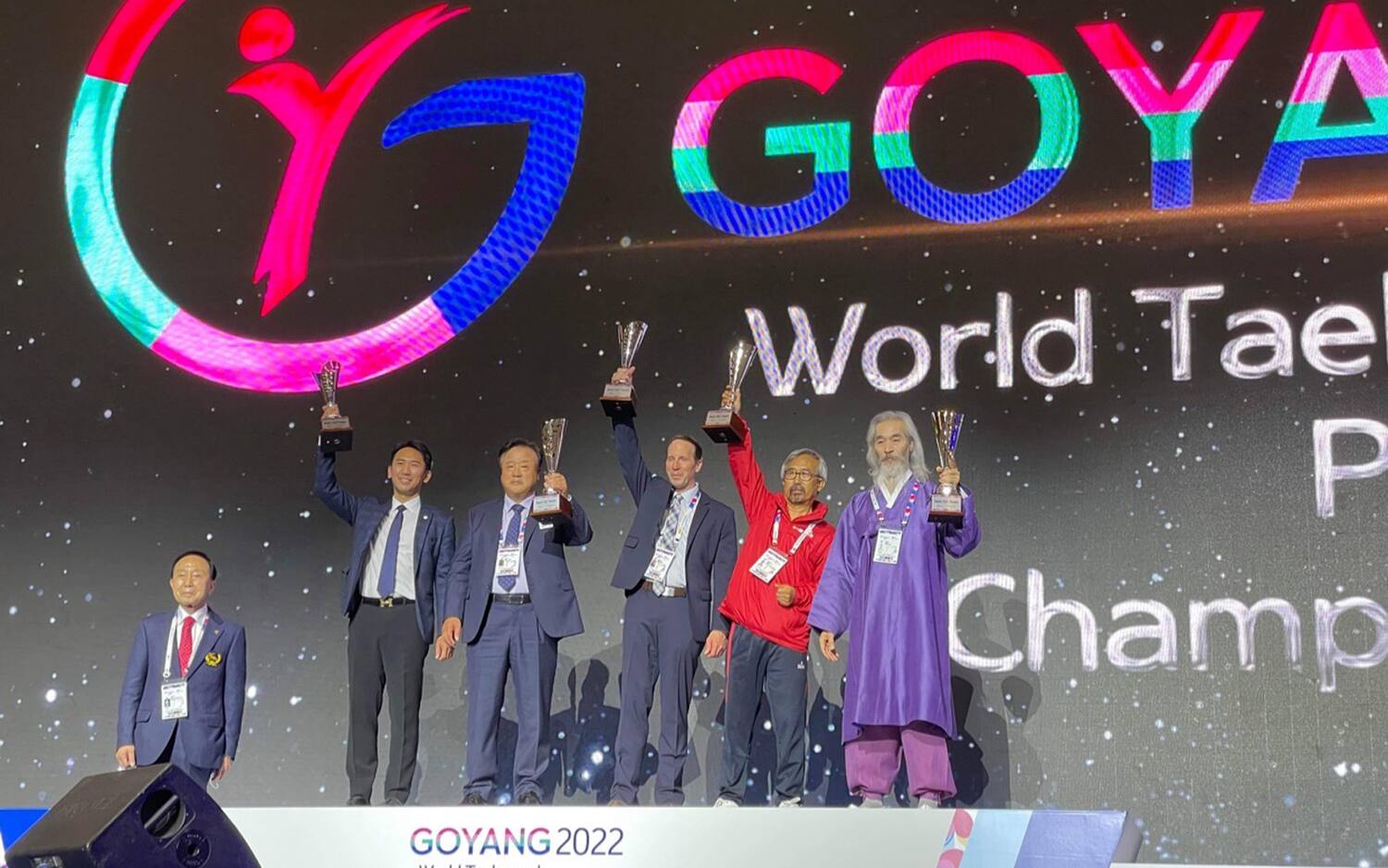 Added Head Coach Dan Chuang, "This World Poomsae Championships was one of the most satisfying that I have been a part of, with strong team unity and mutual support, and the athletes truly put forth their best performances in the ring time after time. More globally, a sense of gratitude from all countries to be back in person permeated the competition venue which made for a fantastic atmosphere. I would like to take a moment to thank all of the Team USA Staff, who worked tirelessly from dawn until midnight each day to set us up for success. It gave the athletes the critical space they needed to put forth their best efforts. Thanks also to the hard working World Taekwondo staff and referees who made this special event possible."
Female Under 60 Individual Cindy Um earned a SILVER medal at her first World Poomsae Championships. Said Um, "This is an amazing moment in my life to have this opportunity to represent the USA. The result, although not what I hoped for, is still a valuable one for me. Thank you for giving me this opportunity, and I had a wonderful time with Team USA."
Female Under 30 Individual, Kaitlyn Reclusado earned a BRONZE medal also at her first World Poomsae Championships. Reclusado said, "I was really excited [going into the medal rounds] but I didn't want to put too much pressure on myself. I was hoping for more but I'm content with the result. Thanks to Master Sangjae Lee, my other coaches and especially my parents."
Male Under 50 Individual Pok Sun Yang, returned for his third World Poomsae Championships, and earned a BRONZE medal. Said Yang, "Team USA is so close to being [the best in the world]. We are right there and are just one more step away. We can do it!"
Male Under 60 Individual Tiger (Taekwon) Jung earned a BRONZE medal at his first World Poomsae Championships. Said Jung, "It was so exciting to compete in my home country on such a big stage. I learned and enjoyed [the experience] a lot. I will challenge myself to earn a higher medal [next time]. Thank you to all of the coaches, especially Coach Chuang."
The Male Cadet Team, consisting of Kalyx Calimlim, Kobe Fung and Whye Jing Ong, earned a BRONZE medal. It was the first World Poomsae Championships for all three athletes and the second medal of the tournament for Fung. Said Ong, "I am proud of my team - we worked very hard to be here and were determined to do our best. I would like to personally thank Coach Lee, Coach Gun and the entire USA national team for helping us reach this incredible milestone."
Under 17 Freestyle Team Allison Deguzman, Dylan Kim, Gian Legaspi, Hannah Noble, Andrew Lee and Ethan Kim earned a BRONZE medal. Said Noble, "Training for worlds was definitely hard and tiring but the memories we made as a team was worth it in the end!"
Karyn Real competed in Female Under 30 Individual reaching the quarterfinals and earning 5th Place. Male Under 65 Individual James Park also reached the final round of eight and finished in the quarterfinals for 5th place. Male Over 17 Freestyle Individual Athlete Michael Chiu competed at his second World Poomsae Championships and the first time in the individual division, reaching the semifinal round.
The Head of Team for the event was Ronald Southwick, and the Head Coach was Daniel Chuang. Coaches included Barbara Brand, Huy Nguyen, Jung Hwan Jin, Sangjae Lee, Giduk Gun, Long Nguyen and Megan Yi. The Manager of the team was Jan Trigg, and the Team Doctors were Dr. Sherri Lashomb and Dr. David Chan. The Liasons for the trip were Gina Hwang and Yea Real.