Affiliate your CLUB with USA
Taekwondo

Club category membership of USA Taekwondo is for taekwondo club/school owners who wish to affiliate their organization with USA Taekwondo - the sport's National Governing Body.
Club memberships are valid for the calendar year and expire December 31st of a given year and costs just $135
Please note: For those clubs that seek to apply for membership after October 1st, the fee can increase $25 to cover the remainder of the current year and the entirety of the following year. Please contact USA Taekwondo after October 1st for this special offer.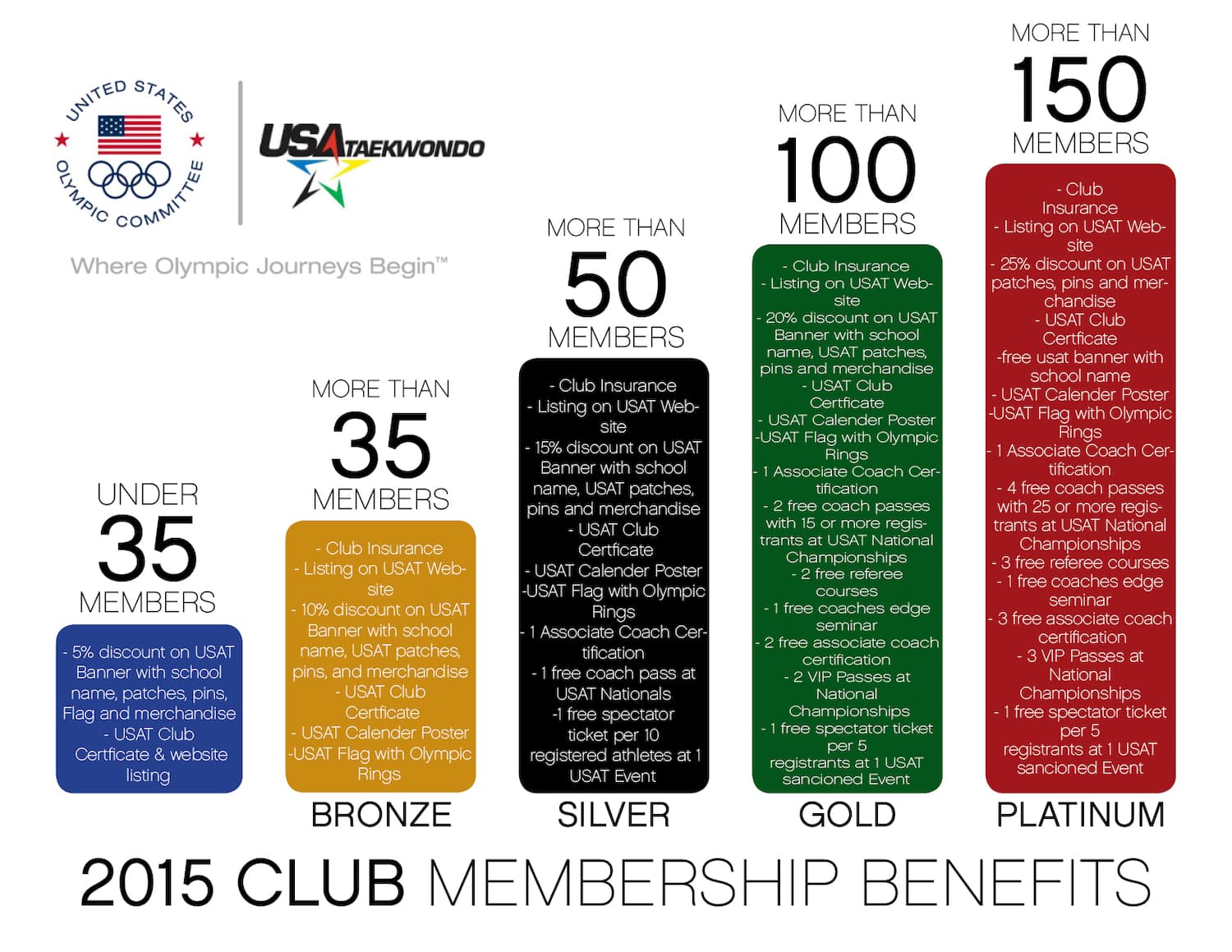 Click to download a printable PDF.
Please note, the member numbers above relate to registered, current USA Taekwondo members within your club.
USA Taekwondo member clubs will feature on the TeamUSA website and benefit from the huge exposure that brings. Your club will be searchable on our USAT Club Locator App, meaning that anyone in your area who is searching for a school to join will see you as a credible option.
We are constantly working to add even more value to our membership packages so check back regularly to see the latest details on what you are entitled to as a member!
To join or renew your USA Taekwondo CLUB Membership CLICK HERE. You can also click HERE to download a PDF version of the application form.
Please Note: To ensure the safety of competitors, club owners must also complete a background check before they will be allowed to become an official USA Taekwondo affiliated club. Once you have completed the application/renewal process within Hang-a-star, choose 'Click Here To Take Your Background Check' under your membership profile. The background check must be completed online.

Your application/renewal cannot be finalized until you have successfully completed the background check.
Coming soon: A video walkthrough guide showing how to complete the membership application/renewal process!