The First Poomsae Academy Team Selected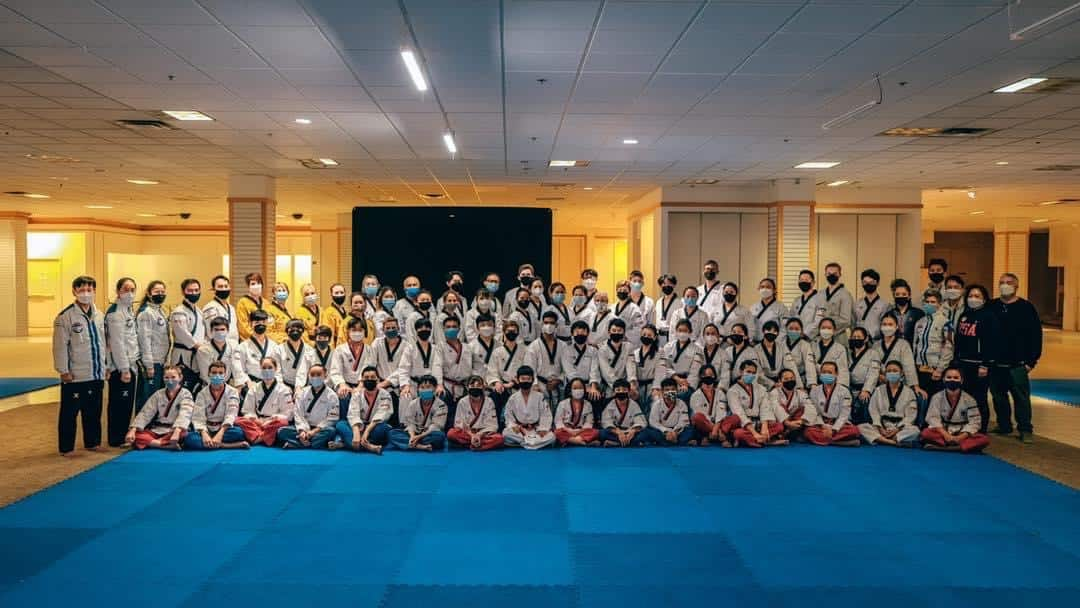 (Dec 14, 2021) - USA Taekwondo hosted its very first in-person Poomsae Talent ID - Phase II camp in Colorado Springs. The Phase II event brought 73 athletes and 7 coaches in October, and it was a weekend filled with knowledge and dedicated Poomsae Athletes. The athletes who participated at the Phase II camp were selected from previous Online Talent ID camps hosted earlier this year. With the Talent ID camps being hosted online due to the Covid Pandemic and for the Safety of athletes and coaches, the Phase II camp brought back the Poomsae Community together again in person and it was an event worth remembering. Click here to view some highlights of the first ever In-Person Poomsae Phase II - Talent ID Camp.
Please help us welcome the first Poomsae athletes who were selected at the Phase II camp to be part of the Poomsae Academy! Congratulations all - and USA Taekwondo looks forward to a great upcoming year and seeing all the Poomsae athletes grow and develop! Helping make the Poomsae National Team the best in the World!
View below to see who made the Poomsae Academy Team! (The athletes listed below were selected because of their competition record and or selected at the Talent ID Phase II camp)
Age Division - Athlete
Tiger (8-9) - Dina Dorack
Tiger (8-9) - Esme Kim
Tiger (8-9) - Evan Cai
Tiger (8-9) - Adam Setiawan
Youth (10-11) - Noelle Ahn
Youth (10-11) - Kayda Arion
Youth (10-11) - Sophia Liu
Youth (10-11) - Aiden Jacob Decolongon
Youth (10-11) - Kobe Fung
Cadet (12-14) - Liora Aldiosa
Cadet (12-14) - Juliana Candelaria
Cadet (12-14) - Alana Heinrichs
Cadet (12-14) - Mikayla Xiong
Cadet (12-14) - Mikel Cho
Cadet (12-14) - Enoch Choi
Cadet (12-14) - Kayden Ho
Cadet (12-14) - Silas Minh
Junior (15-17) - Chiara Flotildes
Junior (15-17) - Megan Lee
Junior (15-17) - Lana Moraleda
Junior (15-17) - Naomi Oh
Junior (15-17) - Grace Ryu
Junior (15-17) - Samantha Valdez
Junior (15-17) - Kelly Wang
Junior (15-17) - Sunghyun Eric Gun
Junior (15-17) - David Kim
Junior (15-17) - Geonhee (Connie) Lee
Junior (15-17) - Humza Qazi
Junior (15-17) - Shawn Seo
Under 30 - Karyn Real
Under 30 - Kaitlyn Reclusado
Under 30 - Erica Seo
Under 30 - Elizabeth Zou
Under 30 - Juston Chien
Under 30 - Brandon Cho
Under 30 - Daniel Lee
Under 30 - David Lee
Under 30 - Ryan Real
Under 40 - Jessica Ayres
Under 40 - Carissa Fu
Under 40 - Ashley Lam
Under 40 - April Minh
Under 40 - Miyako Yerick
Under 40 - David Chan
Under 40 - Sean Jung
Under 40 - Kevin Lu
Under 40 - Minki Seong
Under 50 - Juliet Do
Under 50 - Kathy Do
Under 50 - Shannon Hodock
Under 50 - Shannon Kaul
Under 50 - Sheena Kim
Under 50 - Michael John Bugarin
Under 50 - Angelito Ong
Under 50 - Ray Kyi
Under 50 - Pok Sun Yang
Under 60 - Elva Adams
Under 60 - Krista Danielewicz
Under 60 - Thu Doolittle
Under 60 - Thoa Nguyen
Under 60 - Eleanor Thompson
Under 60 - Cindy Um
Under 60 - Garth Cooley
Under 60 - Taewon Jung
Under 60 - Eun Lee
Under 65 - Barbara Brand
Under 65 - Christine Hislop
Under 65 - James Park
Over 65 - Erica Linthorst
Over 65 - Julie Tregeagle
Over 65 - Chi Duong
Freestyle 12-17 - Gian Legaaspi
Freestyle 12-17 - Vincent Chen
Freestyle 12-17 - Anthony Do
Freestyle 18+ / Jason Dahlberg
Freestyle 18+ / Jake Evan De Guzman
Freestyle 18+ / Francis Gamez
Freestyle 18+ / Recognized Under 30 - Kyra Chan
Freestyle 18+ / Recognized Under 30 - AJ Muńoz