USATKD and CUTA launch Project California 2028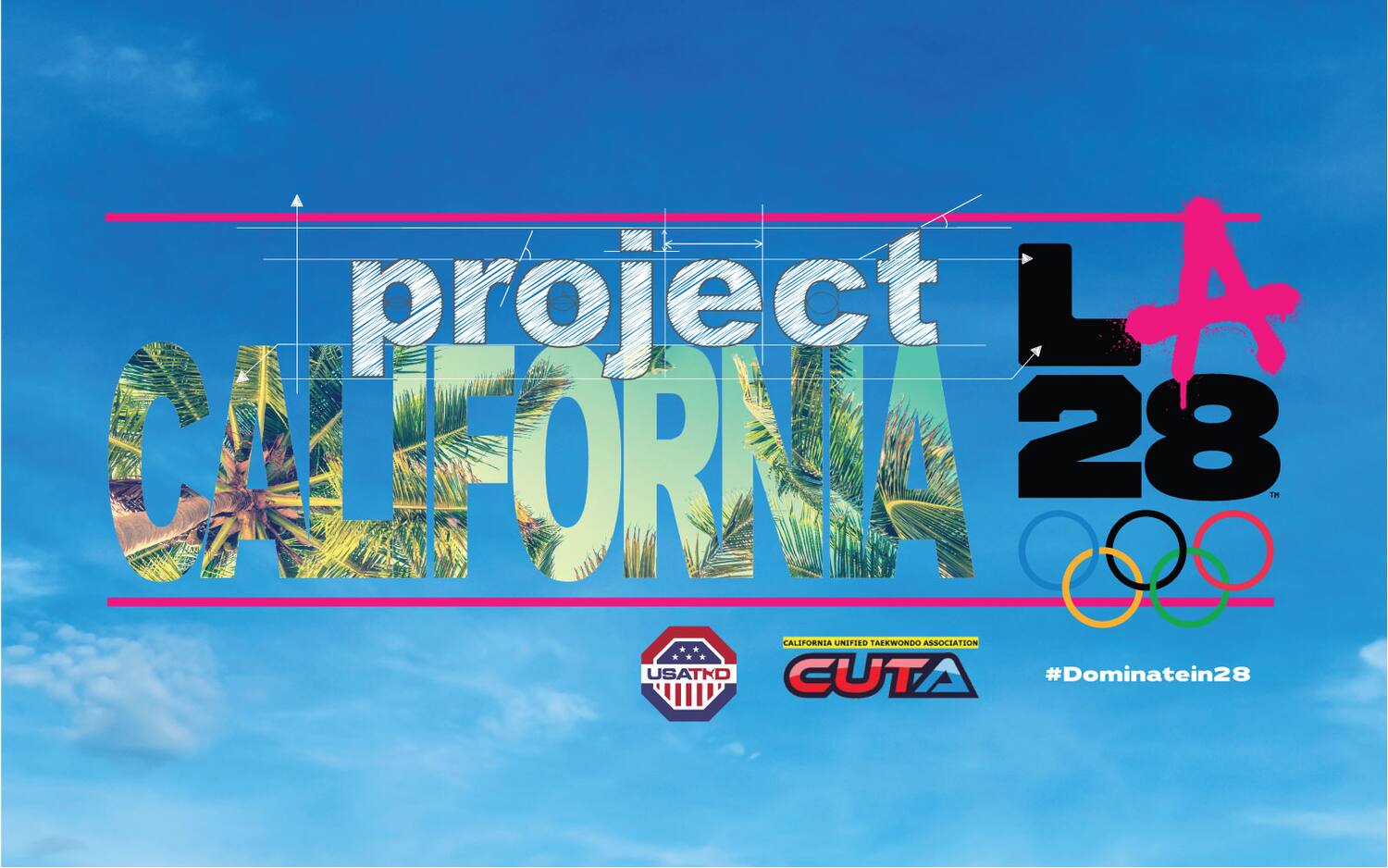 (Colorado Springs, CO – Feb 15, 2022): Following productive discussions and significant alignment of goals, USATKD and California Unified Taekwondo Association (CUTA) are excited to announce the launch of Project California 2028 – a joint effort to prepare for and take advantage of the incredible opportunities a home Olympic Games provides. The two organizations will work side by side to ensure no detail is missed or opportunity squandered in preparation for the biggest sporting event in the world returning to the United States for the first time in 32 years, and to give our U.S. taekwondo athletes the best opportunity to succeed, safely.
USATKD CEO Steve McNally said: "LA 2028 will be the first ever home Olympic Games for taekwondo in the United States, and that means breaking new ground for everyone – we're about to do something that has never been done before, so there is no roadmap, it's up to us to draw it. We are humbled to be the custodians of the sport throughout this landmark occasion and take the responsibility incredibly seriously. The more we find ways to work together, the more successful we'll be and the greater the opportunity is for the sport of taekwondo and its athletes to benefit.
"There is a great deal of work to be done and partnering with CUTA, who know the lay of the land in California better than anyone, is hugely exciting. They are a great organization, and one we can all learn a lot from. We look forward to providing incredible opportunities for athletes of all levels, and ultimately hope that through the work we are about to do, we'll be able to help not just Californian athletes but athletes across the U.S. to prepare to be successful on home turf for the first time ever at the Olympic Games. You can expect bids for major international tournaments to return to the U.S. in the lead up to LA 2028, and we fully expect to be successful."
California Unified Taekwondo Association President Yong Choi said: "We are honored and excited to be joining in partnership with USATKD for the Project California 2028. The purpose of this project is to prepare not just the California athletes, but all the U.S. Taekwondo athletes with Olympic aspirations for maximum potential for success. We are very impressed with USATKD CEO Steve McNally's vision and willingness to "think out of the box" to forge new paths toward our mutual goal of developing grassroots to elite level athletes with eyes towards 2028 Olympics. We look forward to a vey productive partnership between USATKD and CUTA!"
McNally continued: "We are also delighted to commit to CUTA as the California State Association through 2028 – they could not be in better hands than President Yong Choi, Secretary General Derrik Carter and their highly skilled leadership team. Their unwavering intent on the vital matters of athlete safety and opportunity for all is inspiring and impressive. Giving them that certainty for the next seven seasons will allow them to plan their events years ahead of time – something USATKD is committed to across the country to give athletes and coaches the maximum opportunity to succeed."
CUTA Secretary General Derrik Carter said: "I'm already dreaming of a California athlete standing on top of that Olympic medal podium in 2028. Chances are it will be an athlete who we don't even know yet, and I'm so excited for the opportunity to be involved in doing everything we can, alongside USATKD and our amazing California coaches to help make that happen. We're going to do everything we can to see our athletes Dominate in '28!"
In the weeks to come the two organizations will develop a detailed and ambitious plan for the next six years. There will be opportunities for other State Associations to become involved, and we welcome approaches from organizations outside the USATKD family to be a part of what will be the most momentous event in taekwondo in United States history.
If you would like to be involved please reach out to either Steve McNally (smcnally@usatkd.org) or Yong Choi (y.choi@catkd.org) for more information.