Team USA Takes Historic 6 Gold medals at Online 2021 World Taekwondo Poomsae Open Challenge Final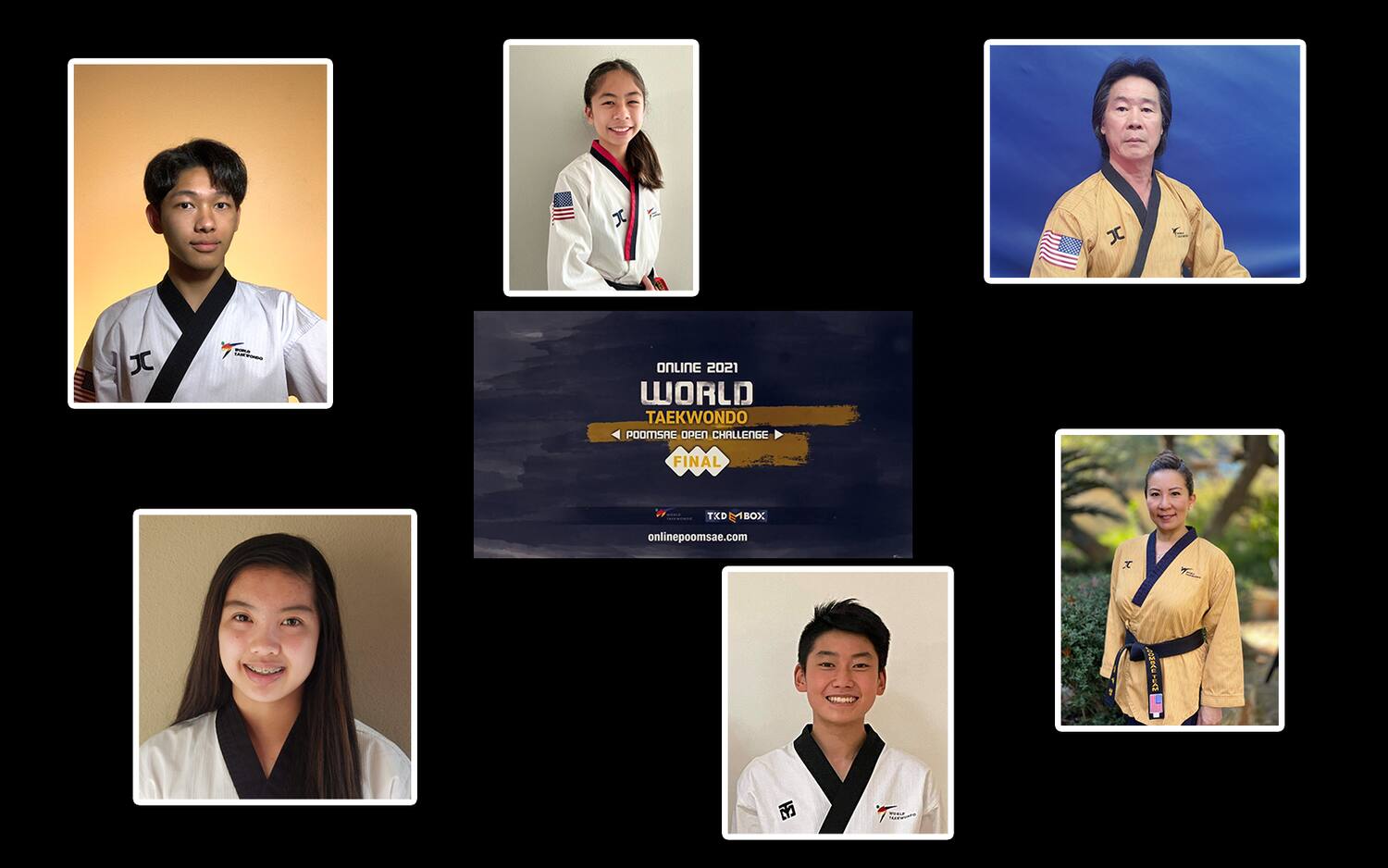 (Jan, 13, 2022) - Team USA athletes finished the Online 2021 World Taekwondo Poomsae Open Challenge Final in the National Team Division with an impressive 6 Gold, 5 Silver and 5 Bronze medals. To qualify for the Final, athletes had to advance through preliminary and semifinal rounds in a year-long World Taekwondo Poomsae Open Series. Team USA advanced an impressive 20 out of 22 athletes to the finals, finishing with 16 total medals. Korea placed first with nine gold medals, USA second with six gold medals, and seven other countries earned one gold medal each.
Head of Team Ron Southwick said, "Once again, our USA Poomsae Team has shown their mettle on the mat. I cannot express how proud I am of our continuing ability to perform at the highest level." Added Head Coach Dan Chuang, "The athletes had to show a lot of emotional resilience to put forth strong performances after a long year of both virtual and in-person competitions. I was thrilled to see the hard work of athletes, coaches and families all over the country come together as Team USA to create this impressive result. I look forward to the team riding this momentum into the World Poomsae Championships in April in Korea."
Winning gold were Sunghyun Eric Gun in 15-17 Male, Ryan Real in 18-30 Male, Elva Adams in 51-60 Female, Jang Hee Pak in 66+ Male, Gian Legaspi in 12-14 Female Freestyle, and Hannah Noble in 15-17 Female Freestyle. Gun and Adams were repeat winners from the 2020 Online World Poomsae Championships.
Winning silver were Carissa Fu in 31-40 Female, Pok Sun Yang in 41-50 Male, Barbara Brand in 61-65 Female, Jake DeGuzman in 15-17 Male Freestyle, and Adalis Munoz in 18+ Female Freestyle.
Bronze medalists from Team USA included Lana Moraleda in 12-14 Female, Kaitlyn Reclusado in 15-17 Female, Kathy Do in 41-50 Female, Garth Cooley in 51-60 Male, and Tweedy Nguyen in 66+ Female.
Other USA athletes who advanced to the finals were Mikel Cho (7th) in 12-14 Male, Karyn Real (7th) in 18-30 Female, Minki Seong (6th) in 31-40 Male, Kayden Ho (6th) in 12-14 Male Freestyle.
USA athletes advancing to the semifinal round in the WT Poomsae Challenge III were Joseph Coughlin in 61-65 Male and Frances Gamez in 18+ Freestyle.
The team managers who worked throughout the year to facilitate the athlete performances were Jan Trigg and Sarah Lavan.